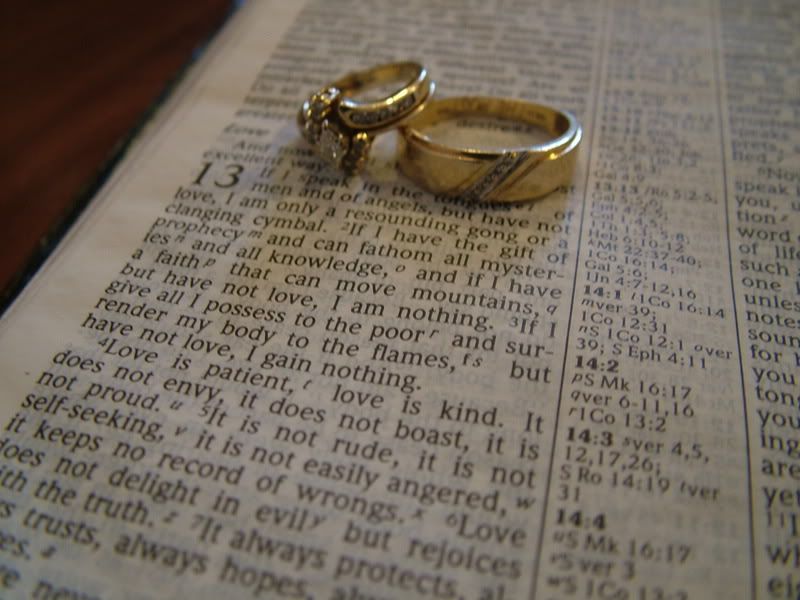 The Dare:
Whatever you put your time, energy, and money into will become more important to you. It's hard to care for something you are not investing in. Along with restraining from negative comments, buy your spouse something that says, "I was thinking of you today."
The Question:
What did you choose to give your spouse? What happened when you gave it?
My Thoughts:
Today was a good day. Of course, we really only see each other in the evening because Kyle's working, but we talk on the phone throughout the day.
Our conversation was good. Nothing negative was said. There were a few times that I wanted to respond negatively to something he said, after he got home, but for the most part it was fine.
A couple of my cousins came over shortly after Kyle got home from work so the guys were in the computer room laughing and talking and whatnot. The guys left about the time The Bachelor came on. I watch this show religiously. Kyle knows this. He doesn't like most of the shows I watch so it's a good thing we have two tv's in our house otherwise there'd be a lot more fighting. lol
Kyle was making comments about the show while it was on. At first I didn't say anything. I was trying to ignore him. But I was also trying to watch my show. When he started talking over them with his own dialogue of what they were saying I raised my voice and asked him to PLEASE STOP. I had to repeat myself a few times and I was so irritated but I only said PLEASE STOP, nothing else. After a few minutes he went downstairs and all was right in the world again.
He sure does frustrate me when he does dumb stuff like that though. And because he doesn't like what I watch, it happens a lot! I don't say negative things about his shows so I've never been able to understand why he can't zip his lips when it comes to mine.
Because we are really tight on money, I couldn't justify spending a lot on something to let him know I was thinking of him. So on my way home from Target, I stopped and got him his mocha. He was already home when I got home so I went downstairs and gave it to him. He was getting ready to go in the crawl space
(we've had some rats making a home down there. we've caught 4 so far. ugh!)
so he asked me to put it in the kitchen till he was ready for it, but he was surprised and thankful and told me thanks and gave me a kiss. I also got him licorice while at Target, but he requested that so it probably doesn't count.
We're a work in progress. Aside from the show issue, it was a nice evening.